About Cobble Insurance Agency, Inc.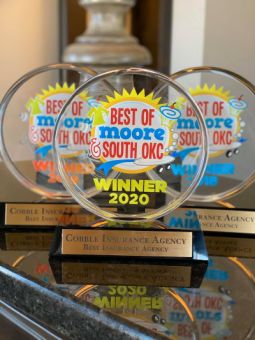 Established in August of 2007, Cobble Insurance Agency, Inc. is independently owned and located in Moore, OK. Our agents have multiple insurance markets to provide competitive insurance premiums for every customer in the Oklahoma City metro, and throughout the state of Oklahoma & Texas.
The mission of the Cobble Insurance Agency is to provide Golden Rule customer service. This is accomplished by committing to ongoing, profession knowledge by Cobble Insurance Agency personnel; maintaining open, available, and responsive communications with our clients; and providing a wide range of competitive insurance products to protect our clients' needs.
Our agency is licensed to sell commercial, home, auto, life, and many other specialty lines with multiple companies. Having a wide variety of insurance companies gives us a competitive edge for our customers. Our goal is to provide great coverage, low rates, and excellent service for you in the years to come.
Can your current insurance agent shop you around with many of the top rated insurance companies for the best rate? We can! As independent agents, we have the freedom to always look for the most competitive rate for each client. We work to find the most competitive options for your individual insurance needs. All the companies we represent are credible, have great ratings, and handle claims efficiently.
Providing excellent coverage at the most reasonable premium is what we do. If for any reason, your rate changes with one particular company, we are able to check with our companies to try and find you a better rate. We take pride in servicing our clients to our best ability, and cutting down their insurance payments.
It helps to find an agency that you know and can trust. Our staff has the knowledge and experience of our insurance products to provide maximum benefit and protection to our clients. Let one of our licensed professional insurance agents help you with any of your personal or business insurance needs serving Moore, Oklahoma.
We want you to have a positive overall experience with Cobble Insurance Agency, Inc.. Our one on one service approach is our #1 goal for all our insurance clients. Give us a call at 405-759-3652 or contact us through one of our quote forms, and we'll be happy to answer any of your insurance questions.